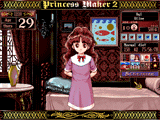 Princess Maker 2 is a raising-up game for MS-DOS by Gainax of Japan that I attempted to get released in the United States.
The effort to bring Princess Maker 2 to the United States was entirely a home-grown effort. I was responsible for initiating the project, which was initially placed under the auspices of my friend David Leary's company Adventions. I contacted the Japanese company Gainax and, along with David Leary, worked out the licencing details, resulting in our initial two year license. I directed all aspects of the project's completion, and personally handled the programming (with Bryan Buck), art modifications, and manual layout.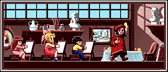 When the game was complete enough to show to companies, David Leary acted as the head of Adventions to contact companies to sell the game. Alas, he was unsuccessful in his efforts to sell the game, so I formed SoftEgg to handle the task of finding distribution. At that point in time, I was working full-time for Working Designs, but I had the full blessing of that company to complete my work on Princess Maker 2.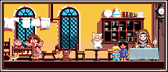 After a long and discouraging search (MS-DOS games were on their way out) I finally was able to license the game to Intracorp (aka Capstone). They, in turn, licensed the game to Ignite (aka Inscape, aka Graphix Zone) which had financial troubles and quickly disappeared. Intracorp, filed for bankrupcy soon after, and Princess Maker 2 was never released as a result.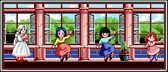 Still, I feel the effort with Princess Maker 2 was a valuable one, as it shows my capacity to act as a producer and manager as well as a programmer. Although the effort was unsuccessful, I feel that we may have been more successful with another product on a different platform. Trying to release an MS-DOS simulation game (particularly this one) in the shadow of Doom and Windows 95 would have been a difficult task for any company, and we made the best possible effort.